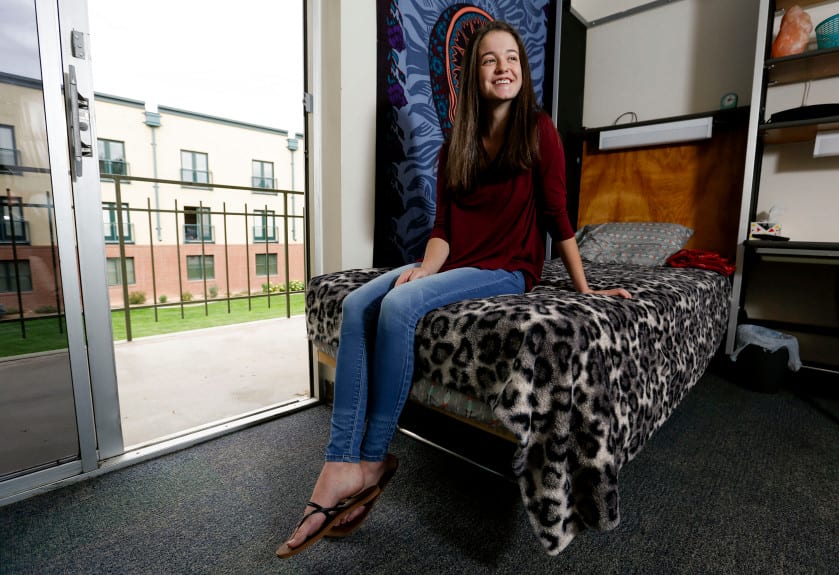 Like most teenagers, Holli Gutierrez craved independence and freedom.
But it wasn't the type of unfettered existence her peers wanted, not exactly. Not the life without curfews, without adults asking questions, grounding them or offering unwanted advice.
She wanted the independence from living with people who hurt her, the ones who said she wouldn't make it on her own. The one who hit her when she stood up for her mom, when she was a shy 14-year-old girl who had enough, and came away with a bloodied nose before she went to live with her older sister.
Now, 17-year-old Gutierrez is away from all that. She's independent, but still not legally an adult, and she's the first one to say she needs some help now and then, the kind of help others usually get from their parents at this age, but she doesn't want anyone's pity.
And she's received that assistance, from a nonprofit organization that supports teens who age out of the foster care system like she's doing.
Just one year into its existence, Foster Alumni Mentors is helping Gutierrez and others who are trying to become independent and make a life for themselves, to learn how to be adults and forge their own paths to success.
The nonprofit's founder, Kim Raff, aged out of the foster care system herself, after leaving an abusive household and being placed in a foster home. Raff attended college after working at Dairy Queen and receiving support from her boss at the time, who recognized her potential and encouraged her to further her education. Now she's helping the next generation of kids who just couldn't live at their biological families' houses for whatever reason, and need to make their own way in the world.
Gutierrez, who graduated from high school early and lived with her 26-year-old sister for the past three years, is now enrolled as a freshman at Colorado Mesa University and plans to enter the nursing program. She has her sights set on a career as a trauma nurse and likes the idea of helping others and saving lives.
After she left her mom and stepfather's home when she was 14, she first experienced her feeling of relief from being away from that environment, but also trepidation at her new situation.
"I was so lost," Gutierrez said. "I didn't know what I was going to do. I was trying to start my life all over again." Finishing high school early wasn't hard for her, and she earned A's and B's, but starting the next step was an unknown she needed help navigating.
Because no one in her family had applied for college before, Gutierrez didn't have anyone to help her fill out forms or even know what she needed to turn in to get accepted and apply for financial aid. Raff helped her navigate paperwork, showed her how to interact with staff at the school, and taught her important tips, like always getting the business card of the person you deal with for future reference.
Source: https://www.gjsentinel.com/news/western_colorado/she-s-spreading-her-wings/article_4e27dadc-bd5d-11e8-8564-10604b9f1ff4.html
PUBLISHED:  | UPDATED: 
Information from: The Daily Sentinel, http://www.gjsentinel.com