Headlines:
A Note From Our Executive Director
Foster Youth SPEAKOUT: HOMELESSNESS
Final Thoughts
A Note From Our Executive Director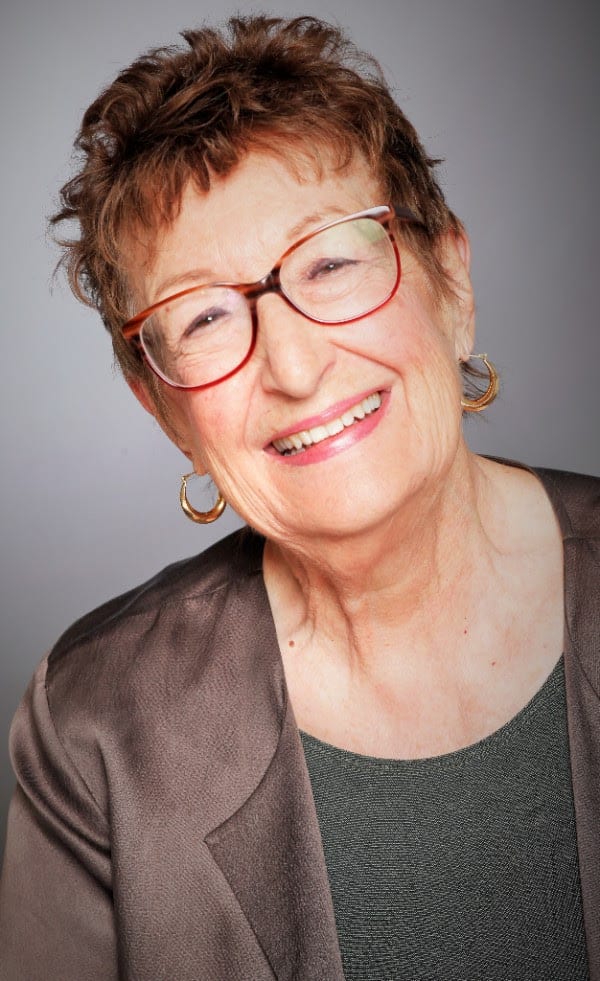 Foster Youth SPEAKOUT: HOMELESSNESS
Final Thoughts
Two months ago, the staff got together with LA youth from previous DC Shadow Days and the Job Shadow Program to talk about issues they feel are important. The subject of homelessness came up and suddenly everyone had a lot to say. It turns out that nearly all  of our youth leaders have experienced homelessness during their transition out of foster care and are passionate about ending homelessness for others.
The youth formed the Homelessness Action Committee, and partnered with LA City Council Member Marqueece Harris- Dawson to visit Neighborhood Councils throughout Los Angeles speaking about the impact of homelessness on foster youth, and the importance of understanding and supporting Proposition HHH. They decided to organize a SPEAKOUT to raise awareness of the issue and register friends and supporters to vote. The result was an amazing event filled with information, poetry, music and heart. This issue of the newsletter is just one example of what can happen when youth speak up and the community listens!
Your donations are what make all this great work possible.
Thank you!
---
On Saturday, October 22, NFYI's Homelessness Action Committee hosted a Foster Youth SPEAKOUT about Homelessness. If you did not attend, no worries! We are going to take you on a virtual tour to relive the amazing day!
Voter Registration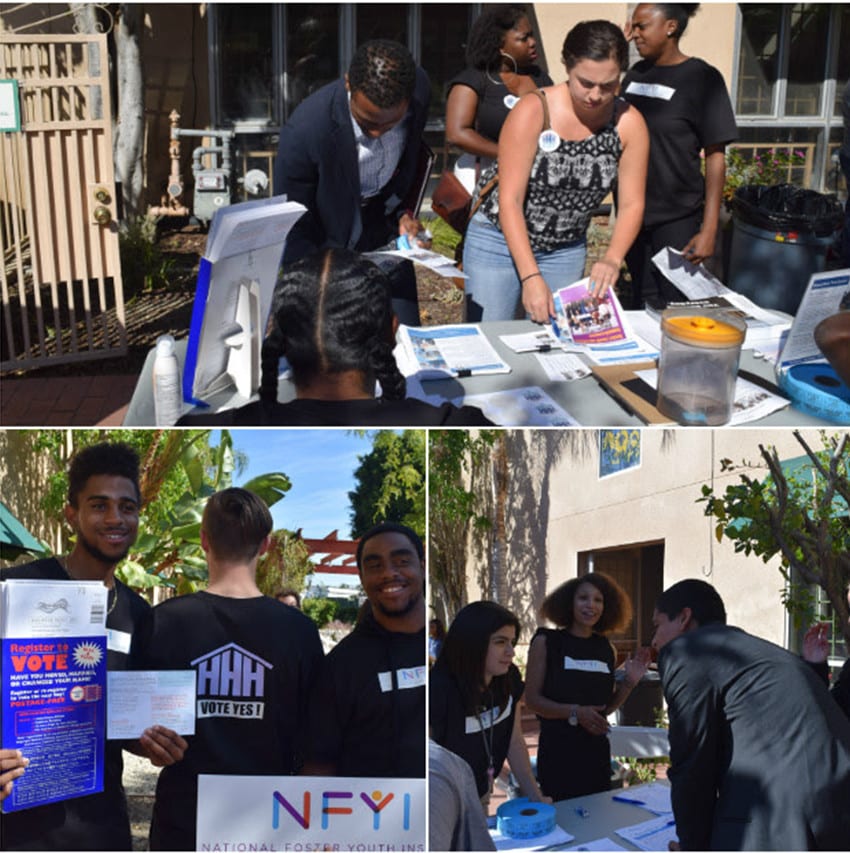 At the voter registration table, many people  stopped by to register and learn more about voting and about Proposition HHH. Two weeks prior to this, the Homelessness Action Committee learned voter registration from Nancy Berlin of the California Association of Nonprofits .  We registered 12 people that day, the first was one of our youth, Jeremy Buchanan who just moved here from Illinois.
---
Hayden Byerly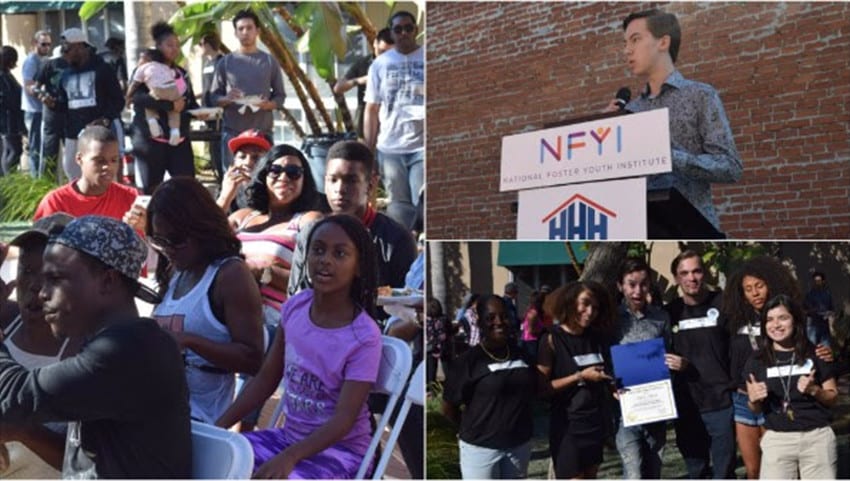 Hayden Byerly, starring as Jude Adams-Foster on "The Fosters", came out to support us, tell us about his non-profit, Hayden's Hopes Totes, and give us tote bags to give away to foster youth. He gave an inspiring speech to kick-off the SPEAKOUT, speaking words of love and encouraged all of the youth there to be themselves, never lose hope, and great things can happen.  We were proud to present him with a certificate from Congressmember Karen Bass.
---
Food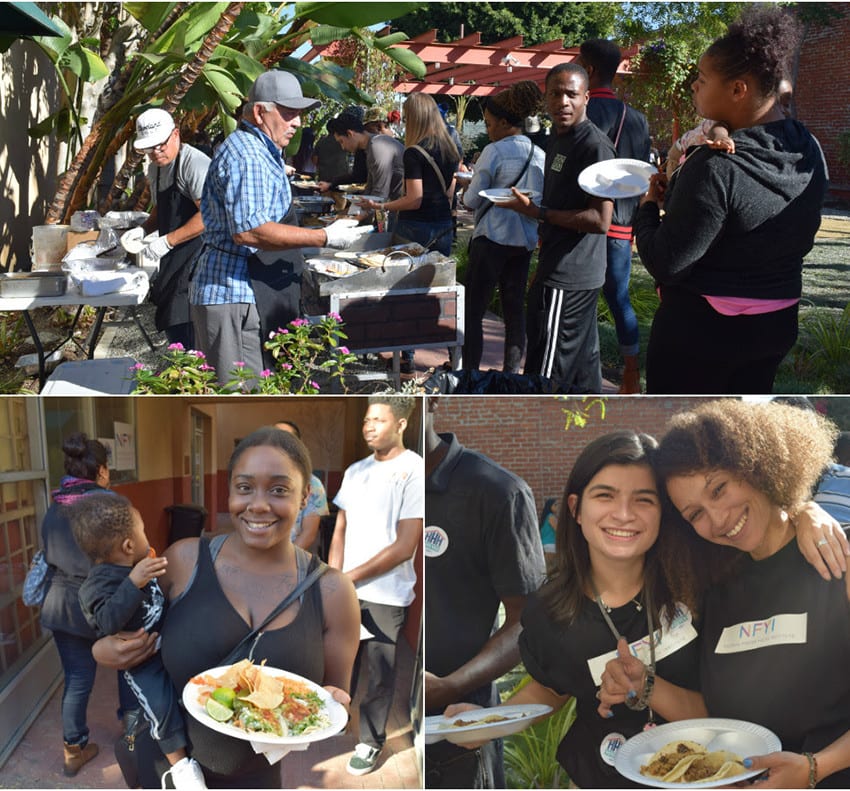 Throughout the day guests lined up in the beautiful 80 degree weather and enjoyed delicious, freshly prepared Mexican cuisine.
---
Speakout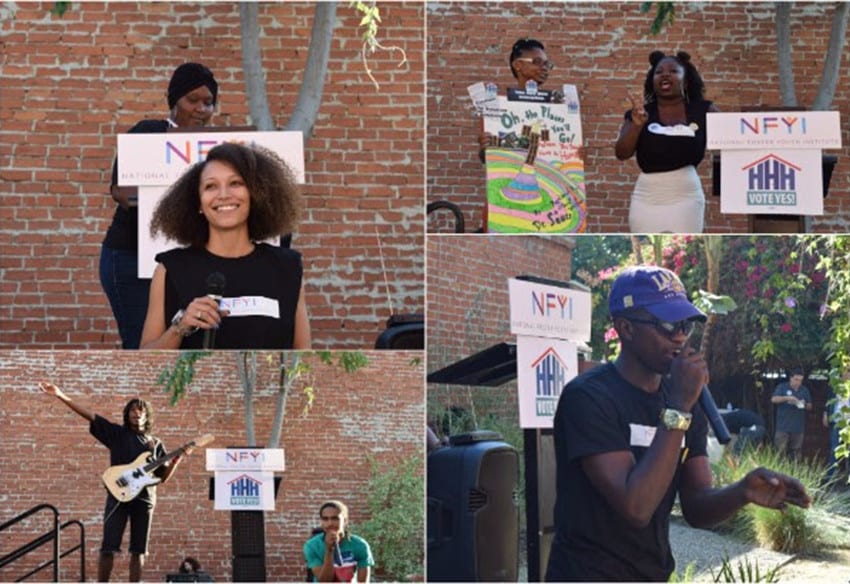 Members of the Homelessness Action Committee performed poetry, sang and even spoke about their personal experiences in the foster care system. Youth from around LA joined us and signed up for the open mic portion of the show. Each performance was filled with honesty, integrity, talent and passion.
---
Final Thoughts  
If you are inspired by the work NFYI is doing, please support us by going to nfyi.org/donate and help us keep up the good work.
You can also vote for NFYI's grant proposal to help us win $100,000 to transform the child welfare system!
Go today to:
https://challenge.la2050.org/entry/foster-youth-and-families-joining-voices-for-change.
Voting ends on Friday, October 28th.
Thank you and we hope to see you at our next event!
Lilla and the NFYI team