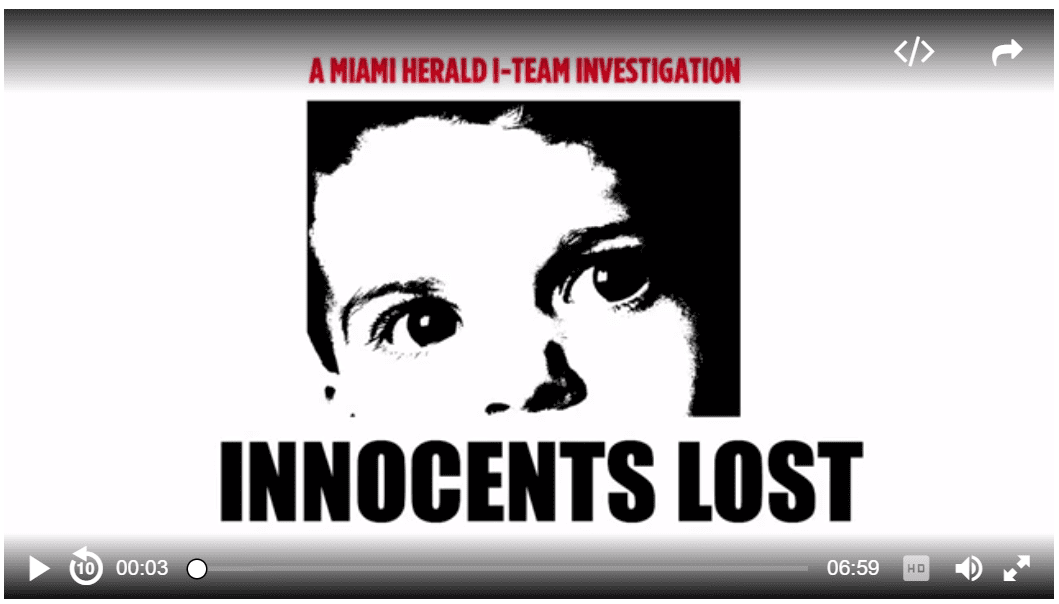 Our Kids, the organization responsible for the care and safety of foster children in Miami-Dade and Monroe counties, has a new leader in place with an impressive resume.
But a void at the top was not the only problem afflicting the nonprofit.
A comprehensive examination — called a peer review — of Our Kids' practices just conducted by the Department of Children & Families (DCF) lists a litany of ills.
Recently, Our Kids has found itself scrutinized in the wake of administrative turmoil and the highly publicized deaths of two foster children, both of whom hanged themselves.
"I can't rewrite the past, or people's perception of the past, but what I can do is control what we do moving forward," said George Sheldon, Our Kids' CEO and president, whose previous job was managing the tumultuous child welfare system in Illinois.
Director of the Illinois Department of Children and Family Services George Sheldon speaks to reporters at the Illinois State Capitol on Wednesday, May 4, 2016, in Springfield, Ill. He has since moved to Our Kids in South Florida.
In Florida's patchwork social services world, groups like Our Kids contract with DCF to fulfill foster care needs in the state's various geographic areas. Those nonprofits, in turn, ink subcontracts to provide actual services.
The report says Our Kids is having trouble getting along with the various components of the foster care world, including foster parents, judges who oversee the cases, and its subcontractors, which are called Full Case Management Agencies.
DCF's review cites the perception that Our Kids is "directive rather than inclusive," leaving out the subcontractors and others when making administrative decisions, causing managerial tension.
It says foster parents often aren't given the full background — such as the full range of traumas experienced and the specific medical needs — of the child they are taking into their home.
A complaint from the judiciary was that Our Kids isn't adequately overseeing the subcontractors to ensure they are doing "quality work." When something goes wrong, sometimes tragically, finding out the reasons why can be difficult. The report cites many other problems, from inexperienced managers to a need for term limits on the Our Kids board to a suggestion that Our Kids supplement its website with information on how it is performance
And while a shift toward kinship care — placing foster children with relatives instead of strangers — has helped the agency find more homes for abused and neglected kids, treatment for those who need professional attention remains a persistent problem, the report found.
A lack of therapeutic foster homes — those whose foster parents hold specialized expertise — may have been a critical factor in the death of 14-year-old Naika Venant.
Taking powerful prescribed medications, Naika cycled through 14 non-therapeutic homes before hanging herself with a homemade noose — while live-streaming it on Facebook.
She already had experienced a lifetime of trauma, including abandonment by her mother, and reported a sexual assault while in state care. She had trouble distinguishing the lines between abnormal and normal behavior.
Naika's doctors diagnosed depression — for which they prescribed medications — along with obsessive compulsive disorder, panic attacks, post-traumatic stress disorder, and ADHD.
Ultimately, her premature death and the treatment she received leading up to it revealed a host of deficiencies within the foster care system.
Asked about the state of behavioral health services, Sheldon said kids shouldn't be seen as "piecemeal." More collaboration between the agencies that assess kids and more homes are needed to produce the right amount and type of treatment for kids in the system, he said.
Thirty-eight days before Naika's suicide, another girl in state care took her own life. Lauryn Martin-Everett's case received less attention than Naika's because her death was not, in the view of DCF, the result of abuse or neglect — and because she hadn't live-streamed it on the Internet.
Unlike the vast trove of records on Naika released to the Miami Herald in response to a public records petition, Lauryn's movement between nine foster homes was covered in three pages.
Source: https://1miami.net/new-foster-care-boss-gets-a-laundry-list-of-what-needs-fixing