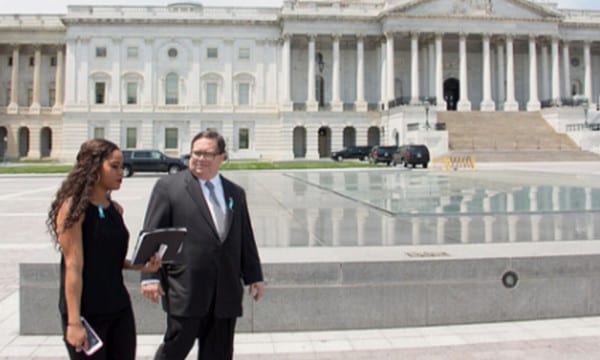 By Jane Caffrey
CORPUS CHRISTI
A local college student, once in the foster care system, has returned from a trip to Capitol Hill. Christina Tyler went there to talk about the challenges young people face when they get too old for foster care.
Tyler is a living success story. She was in six foster care homes between the ages of 13 to 18. Now 20, she is well on her way to a business degree from Texas A&M Corpus Christi. She plans to one day get a masters degree.
But Tyler says the path to higher education is not easy for foster kids.
"The extra challenges are really knowing your resources," she said. "A lot of foster kids feel like they're alone."
It is a message she brought to Washington D.C. when she took part in the Congressional Foster Youth Shadow Program. The college senior, who was one of three chosen to participate from 300 applicants, shadowed Representative Blake Farenthold.
"I'd never been on a plane, never been out of Texas. So it was definitely new. It definitely opened my eyes and gave me an insight," Tyler said.
However for Tyler, the main purpose of the trip was to voice the needs of all youth aging out of foster care.
In Texas, kids in foster care leave the system at age 18. Nationally only 10 percent of foster children go to college, while only 2 percent earn a college degree.
Many struggle with college tuition. Texas does offer a tuition waiver for foster kids that go on to public college. Tyler hopes to see that expanded to include trade schools. She adds that many former foster kids also have difficulty finding a place to live.
"During the summers the foster kids have no where to go, so a lot of times they end up being homeless or go back to where they came from," she said.
Both tuition and housing are issues Tyler wants lawmakers will address, and she shared her thoughts with Representative Farenthold.
"You turn 18 years old and you're on your own," Representative Farenthold said. "You need to have availability of jobs, you need availability of education, and you need to meet your basic needs in life."
Tyler says in the future, she will continue her push for legislation that will provide support for foster children.
"Just to go to give the representatives insight on foster care issues and how to improve, and what needs to be improved. And if something worked, tell them what worked and why it worked," Tyler said. "Also to share our stories. Because they write about it, and they write the laws, but sometimes they don't experience it. So it gives them more an insight on exactly what the foster kids go through."