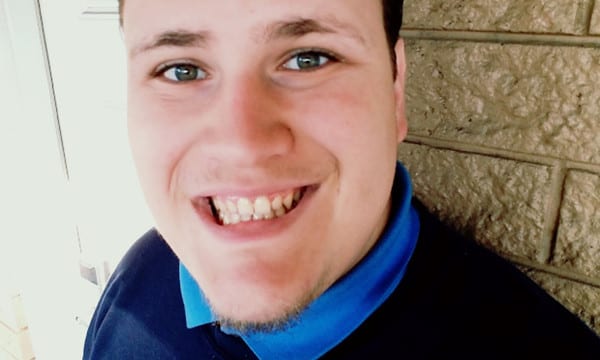 I am 23 years old, and I was in the foster care system in Los Angeles and Riverside County. I was placed in the foster care system at 12 years old because my mother passed away. Over time, and as I was going through foster care, I also witnessed 11 more of my family members pass away, and the biological family that I did have disowned me. It was very difficult to get through middle school and high school while dealing with so much loss, while transitioning to four different placements and going back and forth to different schools.
I was kicked out of my last home three days before my 18th birthday, I think because my foster family knew they would no longer be receiving the funds to take care of me. If it wasn't for the fact that I got great grades in high school – a 3.75 cumulative GPA – and being accepted to go to college, I don't know really know what would have happened to me. I would have faced a high risk of homelessness and of course, the obstacles would have been really challenging for me to overcome alone.
I began taking care of my parents at a very early age. They were always sick, so it was more so me taking care of them, rather than them taking care of me. Since then, I've always had a passion for helping others, and not just as a career, but it's always just been my life philosophy.
When I first got to college, I had a different mindset of what I wanted to do, I couldn't make up my mind. First it was a nutritionist, but I changed my major around five times.  I started noticing my passion for advocacy in my sophomore year when I started doing research on foster youth, foster care and education. I was shocked at the statistics I saw, that showed very low percentages of foster youth who received a four year degree, attended college or even graduated from high school. From that moment I was really inspired to make a difference. I wanted to see how everything really worked within the foster care system and to see if there was anything we could do to change and to make that percentage better for foster youth who want to go to school and finish. That's where my advocacy work really began.
The first conference I ever attended was the 2014 Foster Youth Educational Summit in Sacramento, and that's where I first became inspired to do advocacy work for foster care as a whole system, not just in education.
I have a pretty full plate these days. But I can say that I am doing so much, because I love it. I don't look at it as a job, I look at it as my responsibility to do something for others.  I do this out of the kindness of my heart and because I'm dedicated and have the drive for it. I am able to say, when i wake up every morning, "let's go help someone today".
I work full time for the county's children and family services department where I am a peer and family assistant. We help eligible youth in the independent living program, ages 16-21, receive services and support so they can get back on track and be self sufficient and become independent by the time they turn 21. We coordinate different events, teach different life skills, and give life skill classes.  We are a pretty big part of their lives in terms of their transition to adulthood.
And that's where I get this fuel from, and all this new knowledge, because there is so much to learn when you start working for the system that you are also a product of. It's a totally different perspective being on the inside. I feel like I'm making a really big impact, not only in my city, but in my state and nationally as well.
Sustainability and consistency would have made a big difference in my life growing up. I was always switching schools more than placements, and even though I was changing placements like every 3 weeks, I couldn't sustain myself in school. I was getting bad grades, and every time I would transition to another school, my classes wouldn't count or they wouldn't offer that class, so I would have to be held back. I began to wonder if I was ever going to graduate from school. It just felt like this long process that would never end.
Outside of work, I'm a motivational speaker for different conferences. Currently I'm making myself known using my foster care experience to share inspiration and be a light for foster care youth so they can understand that just because you were in the foster care system, doesn't mean that you can't be successful as well. I'm also part of different organizations, the Founding Corps Leadership, and FosterClub. There are so many I can't remember them all.  I'm a part of all these to make sure that foster youth know about the different services, and to make sure they know they are not alone. Right now, I'm also learning about the legislative side of things.  I've developed a plan to change the education system for foster youth, so we foster youth can feel like they don't have to leave school or quit college. I've developed a plan that I'm sharing with Congresswoman Karen Bass next month. If everything goes well, it will become a bill.
If I was at Shadow Day right now, speaking to Members of Congress, I would say that we come to you as either current or former foster children who were in the system from our counties and states. We come to you as young leaders who want to change the world for our foster youth population. We have direct experience from being a product in the system and we've seen what works and what needs improvements along the way. We come to you because we want to share our stories and we want to ask you to keep your ears open because child welfare is an ever changing process that affects every child along the way.