Someone Is Listening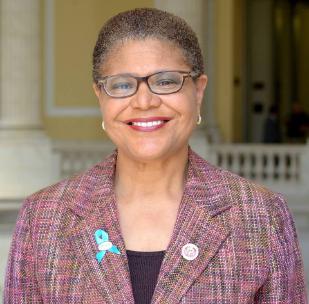 It's no secret that when it comes to politics in America these days, no one is getting along. Turn on any news program at any time of day and you will be inundated with anger from the left, right and middle. If there is one thing everyone in Washington D.C.  can agree on is that they just can't agree on anything.
Enter the issue of foster care.
This is where opposing parties who are seemingly enemies become fast friends. It's tough to vote against kids. It's even tougher when those entering the government, do so with the underlying intention of helping people. Whatever the campaign entailed, whatever the climb into office, you can bet they started out with the hopes of helping people. And who better to help than kids?
This is where aisles are crossed. This is where leaders of differing opinions on nearly everything, find common ground. It's been my experience, that the issues of foster care and adoption trump the party agenda. Individuals who were just hours ago vehemently debating one another, can be found sharing laughs at any foster care related function.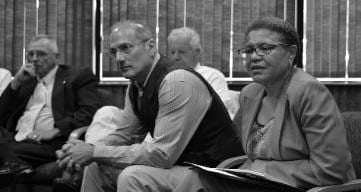 Most members of Congress and Senate are parents. Some are adoptive parents. Some are even foster parents. Even if a government official isn't a parent, chances are they've got one. At the very least they were children themselves. This lends itself favorably to the cause of foster care. Most can recall being small, vulnerable, voiceless. It may be buried deep down but they can relate to those feelings.
Best intentions combined with memories of youth or the faces of the kids in their own home, leads to a desire to take care of the nation's children. Taking care of the country's most vulnerable is seen as an investment in the future and a responsibility of those who sit among the Legislators in Washington.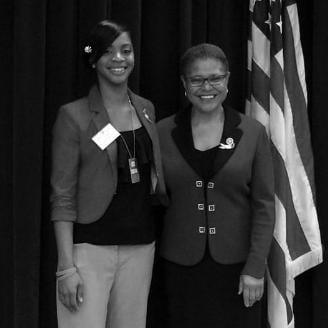 Actions speak louder than words and intentions; Congresswoman Bass is the embodiment of that philosophy.
No one waves the flag of the importance of that investment and responsibility like second term Congress member from California, Karen Bass. Actions speak louder than words and intentions; Congresswoman Bass is the embodiment of that philosophy. Within months of arriving in the nation's capital, she created the Congressional Caucus on Foster Youth along with Congressman Tom Marino of Pennsylvania.
Surprisingly, or maybe not so surprisingly, there were no Congressional Caucuses devoted to the foster care system. For those of us who are not politically savvy, the definition is as follows; a congressional caucus is a group of members of the United States Congress that meets to pursue common legislative objectives. Formally, caucuses are formed as congressional member organizations (CMOs) through the United States House of Representatives and governed under the rules of that chamber. Clearly if there were ever a subject that needed a caucus, it is foster care. Springing to action is nothing new to Karen Bass; she's been doing it since she was a child.
Karen Bass grew up in the 60's during the height of the civil rights movement in Los Angeles, California. The daughter of Dewitt Bass, a letter carrier and Wilhelmina, her mother, a homemaker. Along with her three brothers, Bass saw firsthand the plight of the minority population in the city. That exposure led to a life fueled by protecting the disenfranchised and those without a voice.
She would begin a life of service through school by studying   philosophy at San Diego State University later earning a B.S. in health sciences from California State University, Dominguez Hills. She would take the skills learned in those classes and apply them as a physician assistant and as a clinical instructor at the USC Keck School of Medicine Physician Assistant Program for nearly a decade.
In the midst of all this learning and teaching, she found time to become a part of the community. Moreover, she became a community leader. Her involvement in her neighborhood led to the formation of the Community Coalition, a community-based social justice organization in South Los Angeles that empowers residents to become involved in making a difference, which she founded.
Soon her work was recognized by state politicians. When you ask her, she wasn't encouraged to run for public office, she was led by the hand and nearly forced. "Congresswoman Diane Watson told me that I had been a community activist long enough and it was time I went to serve my state in Sacramento. I had no interest in doing that at all but she told me at the time, there were no African-American women in the state legislature. I certainly felt the sense of obligation upon hearing that."
She was elected to the California State Assembly in 2004 to represent the 47th Assembly District.  In what appears to be Karen Bass' style, she hit the ground running. Her district included tough areas such as South Las Angeles and the Crenshaw district, areas in dire need of attention. Attention is exactly what they got. So involved was Bass that the Assembly's Speaker Fabian Núñez appointed Bass California State Assembly Majority Whip and next the Majority Floor Leader for a legislative session.
Her intention to provide a voice for foster children was evident from her first days at the Capital. She served as chair of the Select Committee on Foster Care.
When Speaker Núñez termed out in 2008, she was asked to run and later elected to succeed him as Speaker of California Assembly by her colleagues. The moment was a historic one. She made history when she became the 67th Speaker of the California Assembly making her the first African American woman and the first Democratic woman to serve as Speaker of the California Assembly. Bass is also the first African American woman in the country to serve in the role of Speaker of a state Assembly.
During her time as Speaker, her legislation included bills improving conditions and services for youth in California's foster care system.
Her time at the California Assembly was up due to term limits and she confirmed her candidacy to succeed retiring U.S. Representative Diane Watson in California's 33rd congressional district. She won the election with over 86% of the vote and off to Washington D.C. she went with the fight for foster youth on the top of her list of issues to address.
In her first term, she created the bipartisan Congressional Caucus on Foster Youth along with co-chair U.S. Representative Tom Marino (R-Pa.), with the intention of examining national standards of care in the child welfare system.
This is where my time with the Congresswoman begins.
The Caucus began in 2011; coincidentally it was at this time that Foster Focus was finally launched. I met the Congresswoman shortly thereafter. My experience with politicians has been consistently positive. As earlier mentioned, foster care does bring the political masses together.  In that spirit, Foster Focus has been warmly welcomed in the nation's capital.
Members of the Caucus have been especially inviting. One of the very first members of the Caucus to interact with the magazine was Representative Bass, a trend that has continued up to this point. When thanked for the kindness the office has shown the magazine, the response has consistently been "anything for the kids."
Action being the measuring stick for what "anything for the kids" means, Bass has been at the forefront of all things foster care since she arrived on the Hill.
The examples are numerous and Foster Focus has been fortunate to be reporting the different bills and initiatives that Bass' office, as well as her colleagues in the Caucus, have put together.
Co-creating and co-chairing a Caucus is a statement in itself, but Congressmember Bass was just getting started. What came next were a series of events and policy ideas geared toward helping current and former foster youth.
First came the announcement of a Listening Tour. The multicity journey was a huge undertaking. The idea; travel the country stopping in major cities as well as rural communities to garner as much information as possible. The goal of the tour was to engage current foster youth and alumni of care, with social workers, judges and other individuals involved in foster care. Caucus members would receive first-hand accounts from people whose lives revolved around the foster care system.
The response from the foster care community was immediate; someone was listening.
The Caucus would kick off the tour in 2012 with a visit to Los Angeles where they toured the Department of Children and Family Services, SHIELDS for Families, the L.A. Children's Court and held a community town hall where the frontline workers were able to explain some of the tools used to aid in reunification, something that has aided in reducing the city's foster care numbers.
Visits to Miami in the Southeastern part of the country, Boston in the New England area, Seattle in the great Northwest, Michigan, Missouri, Pennsylvania, New York among others would follow. All the while Representative Bass and her colleagues were learning the makeup of foster care. Group homes were toured. Foster care academic groups shared their findings. Innovative programs were explored. Most importantly, foster youth and alumni were having their voices heard, some for the first time.
The alumni community was especially sought after.  Hundreds of alumni from across the nation shared their experiences with the Caucus, giving those members an intimate view of foster care through the eyes of those who experienced it. An invaluable tool when evaluating what policies will improve the system.
In all the tour served it's purpose, to better inform members as to what issues are impacting foster care across the nation. As Bass put it "Both Republican and Democratic Members of the Caucus not only gained direct knowledge about foster care on a state level, but they also furthered their understanding of policies that are still needed to produce a substantial impact on foster care nationwide."
2012 also saw the inaugural "Shadow Day on Capitol Hill" where Members of Congress hosted current and former foster youth from across the U.S. in Washington in an effort to help them understand the inner workings of the House of Representatives, learn about the legislative initiatives related to foster care, and share their stories with policy makers.
It's become a yearly event. As an alumni and the editor of Foster Focus, I am privileged enough to have attended each Shadow Day. The faces on the kids as they interact with decision makers is truly a joy. It is a life changing event for a lot of these great kids who, in most cases, are about to age out into the world. It gives them a chance to see another avenue they could take. These Shadow Days have led to friendships, internships and in a few cases, and employment opportunities. Kids get to tag along as a Senator or Representative, generally from their home state, go through a day of meetings, hearings and good old fashioned smiles and handshakes. Some kids, who have never seen a city, get to ride the subway, roam around Capitol Hill and even get to hop on the Capitol Subway System, an underground train system that connects all the capitol buildings, a ride only Congressional Pages and members of the house get to take. You can imagine the stories the participants get to tell when they return home.
It was at the first Shadow Day that Bass and the Caucus would announce the introduction of A+ PLUS Act, which focuses on improving the educational experiences and outcomes of youth in foster care.
The beginning of 2013 saw the passage of the Uninterrupted Scholars Act. In a nutshell, the Uninterrupted Scholars Act allows child welfare agencies access to the education records of children within their care while also preserving the educational privacy rights granted to students under current federal law. As a result, foster youth will now have additional advocates to ensure they are immediately enrolled into school and have access to the interventions they may need to succeed academically. A big victory for kids who are moved to multiple schools.
The signing of the bill was held in the Oval Office Bass with other Caucus members and foster youth were present to watch the President sign the bill into law. Former and current foster youth standing alongside the President was a highlight for the foster care community.
Of the signing, Bass commented, "The Uninterrupted Scholars Act is a concrete step forward to keep foster youth from slipping through the cracks in our education and child welfare systems.  With this landmark legislation, Congress is helping to tackle foster care dropout rates head on and giving those who care for foster youth an additional tool to advocate for those in their care.  Today marks a victory for the Congressional Caucus on Foster Youth and foster youth across the nation."
There is no denying the impact that the Caucus has had on foster care in just a short period of time. There is also no denying a key factor in that impact are the voices of former and current foster youth that were heard during  the innovative Listening  Tour.
I had the good fortune to talk to Congresswoman Bass before her year got off the ground in 2014. She spoke of the different bills she would sponsor and co-sponsor over the next year. She had decided that the issue of human trafficking from care was one that needed addressed. Her office would be crafting a bill in the hopes that it would be signed into law. That's exactly what happened.
Source: Congressional Caucus on Foster Youth Profile Series; Representative Karen Bass | Foster Focus