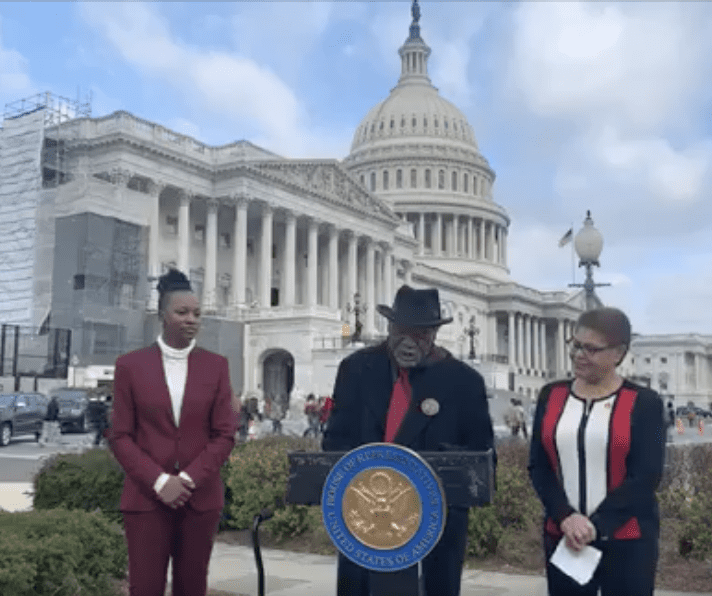 Message from the Executive Director
For the past few months, NFYI has been filling your inbox with invitations to virtual town halls with members of Congress. Since the start of the coronavirus pandemic, we've held nearly 20 meetings with Representatives who have listened, asked great questions, and shared important insights with participants.
Rep. Davis with NFYI founder Rep. Karen Bass and NFYI member Shay House at the beginning of the coronavirus crisis.
The current and former foster youth who joined these meetings were willing to open up about what they were experiencing in their own communities. The impact of these conversations has been game-changing. Last week, Rep. Danny Davis (D-IL) and Rep. Jackie Walorski (R-IN) introduced a bipartisan bill to provide emergency support for foster youth and child welfare services during the coronavirus pandemic. The Supporting Foster Youth and Families through the Pandemic Act also provides additional support for older foster youth, grandparents and other kinship families, home visiting for at-risk pregnant and parenting families, foster care prevention services, and other child welfare services.
Rep. Davis joined NFYI founder Rep. Karen Bass and NFYI member Shay House (pictured above) at the beginning of the coronavirus pandemic to call for a focus on supporting current/former foster youth during the unraveling crisis. And he credits the NFYI town hall he participated in with being a driving factor in developing the bill. Congratulations and thank you to all of the NFYI members and foster youth alumni who participated in these meetings and who once again showed us the power of lifting up #FosterYouthVoices.
The bill has been written, but our work is not done. Now is the time to educate additional members of Congress on the benefits of focusing on foster youth in their response to the pandemic. Click here for ways you can help share details with your US Representative.
And I look forward to sharing the next town hall invitation with you!
With gratitude,
Sally Fairman
Executive Director
Fostering Learning & Celebration
Have you marked your calendar for our annual event, An Afternoon of Learning & Celebration? This year, we're honoring two champions for foster youth, Jewels Elmore Washington and Kiko Washington. And because this event will be virtual, everyone's invited to celebrate. Get ready to fire up your device and be moved, entertained and inspired. We've got some special guests in the works that you won't want to miss. It's all happening on October 3, 2020. Click here to become a sponsor or to RSVP to join us.
Fostering New Skills
During TODAY'S skill-building webinar, we'll be talking about how young people are Rocking the Vote in 2020. Your voice and your vote matter! Learn how foster youth and alums are organizing to get out the vote this year. Find out how you can make a difference by registering new voters — online! Click to join us on Wednesday, August 12 at 3pm PT / 6pm ET.
Fostering the Youth Vote
Help us get out the #FosterYouthVote by making sure you and two eligible friends are registered to vote. You can increase foster youth power AND win prizes! It's easy:
1. Register yourself and two friends
2. Take a pic of the registration pages
3. Submit them here. You'll be entered to win an upcoming raffle.
Fostering Mental Wellness
NFYI's Mental Health and Wellness team invites you to join us on a journey of healing. Each month we will have virtual events that focus on wellness and learning new ways of prioritizing self care. Please join us for our August roll out! Check out the NFYI social media platforms for activities that will help you on your wellness journey. This week we'll learn how to make stress balls. On August 25, keep an ear out for our Podcasts for Healing recommendations. And on August 28th, join us on Instagram live at 1pm PT/4pm ET for Managing Anxiety. Find NFYI on social media @NFYInstitute to join us!
Fostering Systemic Change
Systemic racism permeates every facet of our society — including the child welfare system. If we're going to change this, we need to speak truth to power. How has racism impacted your experience in the child welfare system? Film a short video (two minutes or less) describing your personal experience and/or ideas you have for addressing biases and systemic racism that impacted your time in foster care. Your video will be shared with members of Congress and child welfare advocates as we work together to dismantle systemic racism in child welfare. Use this form to share your story and upload your video.