Learn Annika's Story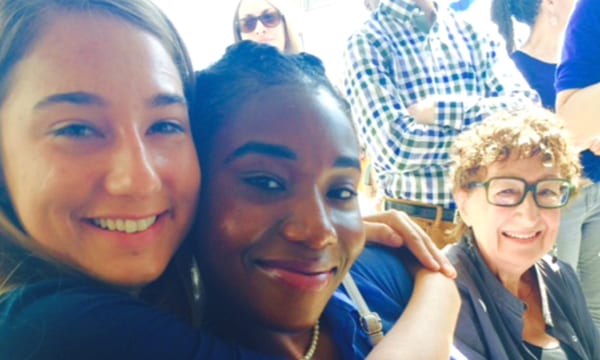 I was placed into foster care because of my father's domestic violence against my mother and me. My dad was very violent. The cops would come and I would scream bloody murder. Eventually my mom left him. My dad ended up moving to Indiana and we were going to move with him, but the abuse began again. My mom drove me and my brothers back to California and we lived in a shelter for a while, but my dad wouldn't let us be. My mom went to renew her restraining order, and my dad had a fit in the courtroom. After that, the judge took us away from her because he was worried about what might happen to us. I was eight, my brother Russell was seven and Eric was four.
Once we were in foster care, we moved around a lot. We started at Orangewood Children's Home in Orange County, where we lived for around three months. Then we moved to an alternative group home, and eventually our first foster home in La Mirada. From there something happened in the foster home and they moved us again. I went back to Orangewood for another week and my brothers went to an alternative home. Later, I met up with them and we were placed in a second foster home. After that we were sent to Indiana to live with my dad's parents. Eventually my dad got custody of my brothers, and my grandparents signed me into a legal guardianship when I turned 13. I stayed with them from 13 to 18, until I aged out.
For most kids, kinship care is the best option, but for me, kinship care was not. My dad had more money than my mother, and he had the ability to hire lawyers. He was in a position to get us back and it felt like he really made sure to push my mom out of the process. I was then placed with my grandparents and it wasn't the best experience for me. When I was about to turn 18, I didn't want to be kicked out randomly, so I prepared to move out on my birthday. I worked really hard when I was younger to save money. I saved to buy a car, and on my 18th birthday, I left my grandparents house. I was going to move in my own apartment and work, but my friend's parents found out and offered me the opportunity to live with them.They were really amazing people. I lived with them until high school and then a month after, I moved out and was accepted to UCLA. I couldn't believe it.
I'm 22 now and I'm a student at UCLA. I'm currently a senior but will be taking a fifth year. My major is still up for debate. I'm split between biology and political science. Since I've been in college, I've really been drawn to political science, that is my true passion. I also have two minors in Chicano studies and African American studies. I do foster youth advocacy through NFYI and the Bruin Guardian Scholars program at UCLA.
I think the hardest thing for me to accept during my time in foster care is that it seemed like everyone really misunderstood the situation. They really didn't understand my father's abuse and how it affected me, because I was so non-verbal. I'll admit, as a child, I didn't know how to communicate effectively; I was really traumatized and I didn't know how to use my words. I wasn't able to completely explain what was going on. But looking back I feel like the system was really biased against my mom because she was poor. Just because someone has money doesn't mean they are going to be a good parent. My father was the abuser, but as a child, my mom really encouraged me. She took me and my brothers to museums and libraries and art shows. She took us places and encouraged us to learn. She would take out the paper and find places for us to go. When I was younger, I loved to learn things and I loved learning how things worked and that's why foster care was so tough for me – because no one told me what was going on.
My experience in foster care has driven me to become an advocate because I really feel like my brothers and I fell through the cracks, and I don't want that to happen to other kids. Just because the ultimate goal is family reunification, I want to be able to tell my story and let people know it's not always the best, especially if you have any idea that the children are going to be put back in a bad situation.
As an advocate, and someone who has lived through the system, I know we really need more social workers and more resources dedicated to the system. The country doesn't spend as much money on the foster care system as they should. Kids are being taken from their parents because the government is saying their situations aren't safe, but then they are putting them back into unsafe circumstances. If this is going to happen, there must be social workers and resources allocated to catch the kids like me who are falling through the cracks. We also have to make sure kids have representatives for their needs. Social workers are there to really make sure the system works together, but children must have someone solely dedicated to looking out for their well being. This is what I want all policy makers to know.
To the kids who are going through what I went through, I would tell them to hold on. I had a lot of times where I was being shuffled around, and until you are 18, you have no say over your life. I would tell them to hold on, and to keep fighting for yourself. I would also tell them they need to be really driven. They need to have their priorities in line and have goals. Don't get caught up in drugs, and make sure you're attending school. At a really young age you have to step into the role of being an adult. It's hard, but that's what you have to do. Eventually you will turn 18, and will get some control of your life. It won't be a walk in the park, but if I can do it, you can do it, too.