Rep. Karen Bass brings foster children to Washington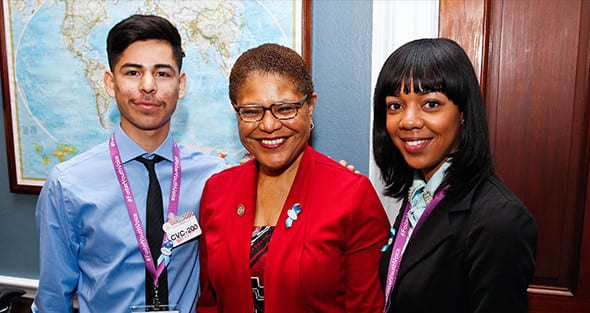 SARAH D. WIRE
IRFAN KHAN Los Angeles Times
REP. KAREN BASS (D-Los Angeles), started the Congressional Foster Youth Shadow Program five years ago, during her first term.
BASS talks about life in the foster care system with her shadows in the Capitol, Thessalonia Logan, 23, and Martin Moreno, 18, both of Los Angeles.
WASHINGTON — Rep. Karen Bass (D-Los Angeles) wants members of Congress to picture the face of a constituent when they vote on legislation about the nation's foster care system.
So this week, she brought foster kids to Washington. Ninety-nine young people trailed representatives through the halls of the Capitol, telling their stories between hearings and meetings.
Bass said it's usually hard to get her colleagues to focus on foster kids' issues. "In the scheme of things, these kids don't measure [up] to Iran, to water or oil," Bass said. "They just don't … unless you do something deliberately to raise attention."
So she brought the children to the Capitol in hopes of letting them talk to lawmakers. "Members of Congress really get a firsthand feel of what it's like for these kids," she said.
Bass started the Congressional Foster Youth Shadow Program five years ago, during her first term. It was the idea of her then-deputy chief of staff, Jenny Wood, who is now a chief deputy of the U.S. Department of Health and Human Services' Children, Youth and Families Administration.
The program brings young people who have recently left the foster system to Washington for a three-day trip that includes a discussion with foster care policy experts at the White House, sightseeing, and, this year, an inspirational speech from Run-DMC's Darryl McDaniels, who was in foster care as a child.
The newly created National Foster Youth Institute now runs the all-expenses paid program along with several foster support groups, including FosterClub and Casey Family Programs.
Bass said the institute and support groups create an organizational structure to stay in contact with the youths. The institute is also holding meetings with foster youths and members of Congress in their home districts. There are an estimated 400,000 American children in foster care at any given time, the U.S. Department of Health and Human Services says.
"It's my hope that they stay engaged," Bass said. "The idea is that they will go back and talk to their friends and family that are in the system and they will form a network within the congressional district that stays in touch with them."
In the halls and committee rooms of the Capitol, the crowd was peppered with young people in suits and lanyards. Representatives wore blue ribbons on their lapels.
"Several members were upset that they didn't have a young person, or didn't understand why they got left out, which I love," Bass said.
Bass said the institute works to pair youths with politicians from where they both live, which makes it harder for lawmakers to tell themselves there isn't a problem back home.
"I completely assume that members are unaware. If I'm from Colorado, and somebody comes to me from New York, well, you know, that's a big city," she said. "That's why it needs to be their member."
Rep. Mark Takano (D-Riverside) said he was inspired by George Garcia, the UC Riverside senior who shadowed him. Garcia emphasized that many foster children don't get a chance to attend college, much less graduate.
"He wanted to make sure I knew that people like him are outliers," Takano said.
They spoke about resources available to foster children attending college. As a result of their conversation, Takano said he plans to meet with students and educators to talk about coordinating resources for former foster children attending college in his district.
The shadow program has already influenced legislation, including provisions to end human trafficking of foster children.
Bass shared an anecdote lawmakers heard from a young woman a few years ago.
"She felt being in foster care prepared her to be trafficked. She basically was drawing the analogy that 'there is nobody in my life unless they are paid to be in my life, so I'm always viewed as a commodity,' "Bass said. "She fell for her pimp because he was the first person who told her he loved her."
Bass' shadows, Thessalonia Logan, 23, and Martin Moreno, 18, both of Los Angeles, joined Bass in a private meeting with mayors visiting from Colombia and sat behind her at the dais during a Judiciary Committee hearing.
Their eyes widened when Bass showed them the schedule for the day, including multiple instances in which the congresswoman and the shadows were supposed to be in three places at once.
"She's really busy. I still appreciate that she took the time out to have us shadow her, but it's crazy to see how she works," Logan said.
They chatted as they rushed between meetings and huddled in her office to talk about college hopes, problems with social workers and life in Los Angeles' foster care system.
Moreno wants to become a surgeon and plans to mentor foster children. He graduates next week from John H. Francis Polytechnic High School and has a full scholarship to Humboldt State University.
Moreno said his 22-year-old sister was awarded custody of him last year after their mother battled drug addiction and the family was evicted and moved into a homeless shelter. He said his sister had to put her education on hold to take care of him.
"I truly appreciate that, and for me to be able to make that up, I want to pursue medicine," he said.
Logan's grandmother was awarded custody of her as a newborn. When her grandmother died, Logan and her seven siblings bounced between aunts who were verbally and physically abusive, according to her biography. Not wanting to be separated from her siblings, she didn't come forward about the abuse until she turned 18, when she could move into transitional housing through the Department of Children and Family Services.
She said Congress should work on creating a better support system for foster children. "If they had more of a support system where they wouldn't feel so scared to speak up about what's really going on," she said.
Logan works full time as a security guard and is studying part time at Los Angeles Trade-Technical College. She wants to earn a psychology degree and become a social worker.
"I've been in the system, I know what goes on. I want to help other foster youth or any youth in general so they won't have to go through what I went through," she said.
Bass said after her shadows left that she feared Logan "could teeter."
She had tried to share her own experience of putting off earning her own degree, requiring her to retake several courses, to suggest to Logan that she should get back to her community college coursework.
"I saw her light up when she heard that I didn't just go through school in four years. To me that is really important," the congresswoman said.
[email protected] Twitter: @sarahdwire