Headlines:
A Note From Our Executive Director
Tennessee Listening Tour
NFYI's Evening of Learning and Celebration
Los Angeles City Council Presentation
PSA on the Dr.Phil Show
Visit Our New Website!
Congressional Shadow Day
A Note From Our Executive Director
Last week we were at the City Council Chambers, and the President of the Council, Herb Wesson, said, "We don't have direct control over the foster care system, but we do have a soapbox."  He was speaking to the fact that in LA, the child welfare agency is controlled at the County, not the City, level.  He is absolutely right about the soapbox.  The elected officials on the City Council can get media coverage and, because of their office, have access to the ears of thousands of constituents across Los Angeles.
Thanks to Facebook, Twitter, Instagram, etc. we all have a 'soapbox' and each of us has a voice that is louder than we think.  As we enter the second half of National Foster Care Awareness Month, I want to send a message to each of you that speaking up, speaking out, spreading the word – is a vital part of advocacy and a necessary component to building our movement.
We have seen so many examples this month of people – both everyday folks and powerful celebrities – using their time, energy and resources – to raise awareness of the issues that children caught in this country's foster care system face.
From the passionate and generous supporters who attended our May 7th fundraiser, to the Council who graciously acknowledged our work, to a popular television host who traveled across the country to tell Congress how important it is to keep families intact – we have seen, this month, many voices raised in support of improving the lives of our youth who get caught, for no reason of their own, in foster care.
In May we also revamped our NFYI website so it is stronger, more user friendly, and action-oriented.  We will have blogs from youth and other advocates and interviews which highlight various young people's lives.  It's compelling reading and presents opportunities to take action, so visit www.nfyi.org when you can.
Next we embark on a journey to Washington DC, where 101 of those youth from all across America, get to raise their voices en masse and tell their stories to each other, to their member of Congress and to the country.  Their power is limitless.
We hope you'll be listening.
Tennessee Listening Tour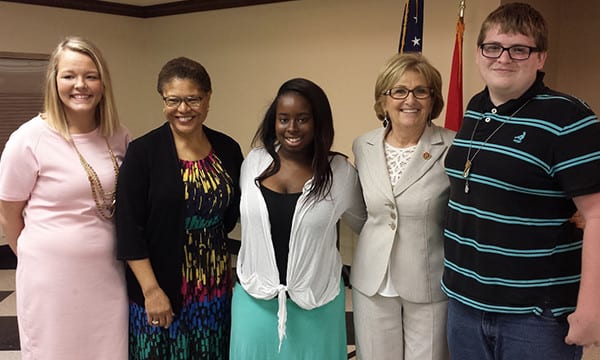 (Seairra Reiter, Congresswoman Karen Bass, Tamara Milford, Congresswoman Diane Black, Jacob Costanzo)
Rep. Diane Black(R), Co-chair of the Congressional Caucus on Foster Youth, hosted a Listening Tour in middle Tennessee. Member of Congress Jim Cooper (D), who represents Nashville, welcomed us at a dinner on Sunday night, along with Rep. Karen Bass. The focus was on learning about the impact of adverse childhood experiences (ACES) on foster youth, and how Tennessee has adopted a coordinated approach at all levels of government to address this problem and its disastrous aftereffects, including  poor physical and mental health, learning difficulties, and a great many of the problems foster youth face when they become young adults.
NFYI's Evening of Learning and Celebration
Here is a virtual tour of our annual fundraiser. David Green, representing the Social Workers of SEIU Local 721, and Wendy Smith Meyer were honored as 2016 Champions of Children and Youth. Lazarus McRae, Edward Pedroza and Annika Taber talked about their experiences in foster care and what NFYI has meant to them, and True Jones presented a rap version of her story. We are so grateful for the youth whose stories "made it real", for all the people who care about a better future for our children, and the generous supporters who help to make that possible.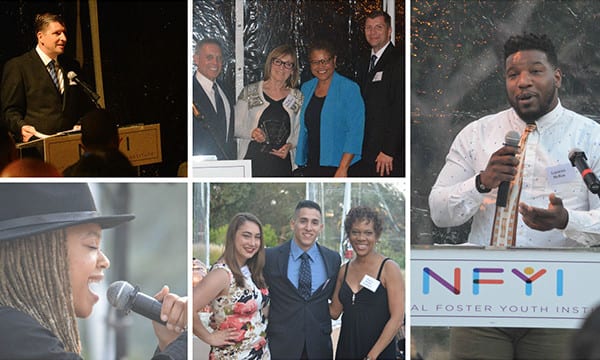 Los Angeles City Council Presentation
8th District Councilmember Marqueece Harris-Dawson paid tribute to NFYI last Friday, with a moving presentation, acknowledging us for the work we do for foster youth in Los Angeles and around the country.    At the City Council Meeting, two alumni of the NFYI Job Shadow Program, Lawrence Winston and Johna Rivers gave powerful testimony about their lives growing up in foster care and revealed some of the challenges they each have faced over the years.  Their tenacity and powerful spirits enabled them to overcome many of the obstacles placed in their way, including periods of homelessness.  Several Councilmembers shared comments about their own experiences with the foster care system and spoke to the need for greater community investment in the system and all of its children.  
PSA on the Dr. Phil Show
Dr. Phil McGraw, known to all of America as "Dr. Phil" is a staunch advocate for foster youth and a supporter and friend of NFYI.  On his May 17th program he promoted our work with a public service announcement. Check out our Facebook page to see the video.
We believe this energetic, powerful endorsement of our mission will raise our profile considerably and introduce us to millions of people all around the United States.  In addition to promoting the work of NFYI on his program, he and his colleague Dr. Frank Lawlis testified before 25 members of Congress at a briefing last week.  This was in partnership with the Senate Foster Youth Caucus and the Congressional Caucus on Foster Youth. Dr. Phil and Dr. Lawlis focused on the link between the current opioid epidemic and the rising number of children placed in foster care.  Dr. Phil shared with policymakers his expertise in helping families in crisis dealing with substance abuse issues.  It is far more disruptive to tear a family apart and put one or both parents in jail and the children into the system, than it is to seek treatment for an addicted individual and do everything possible to keep the family intact.
NFYI.org
We're proud of our new website! Check it out at:  www.nfyi.org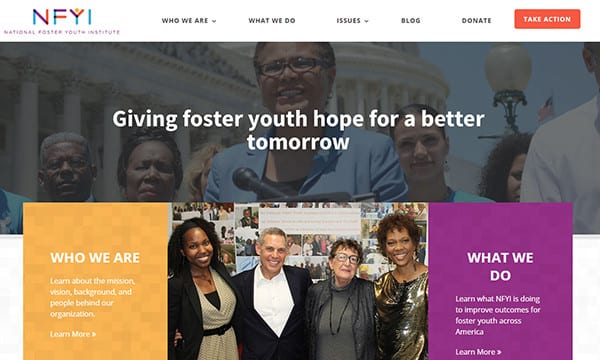 Congressional Shadow Day
NFYI, Foster Club, Youth Villages, the Foster Youth Alumni Association, and Foster Youth in Action, are heading to Washington, DC for the 5th Congressional Shadow Day Program to meet up with more than 100 foster youth and their Members of Congress! This is always a great experience for everyone involved, building relationships that last a lifetime, inspiring young leaders with a vision of what is possible for them, and leading to a new or renewed commitment to foster youth on the part of the Congressmembers who participate.
Next month we will take you with us to the DC 2016 Shadow Day Program. We plan to return with an extended family album of all the events we're looking forward to and promise to share them with you. Until then, be well and have a wonderful month.
Lilla Weinberger
Executive Director